Moisture/PH/Alcohol Testers
---
▶ Plant PH Meter
The soil is one of the most basic elements for plant life.
Check pH of the soil and add the proper amount of lime to the soil necessary for neutralization.
Instsant readings of soll or compost acidity.
Simply probe and see.
Check water and keep it clean for your health.
No batteries required.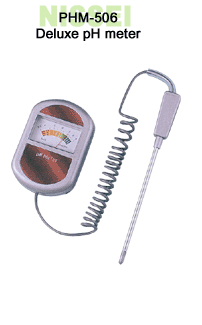 Plant pH Preferences
Vegetables
Beans
Beetroot
Broccoli
Brussel Sprouts
Cabbage
Calabrese
Carrot
Cauliflower
Celery
Cucumber
Leek
6.0-7.5
6.0-7.5
6.0-7.5
6.0-7.5
6.0-7.5
6.5-7.5
5.5-7.0
5.5-7.5
6.0-7.0
5.5-7.5
6.0-8.0
Lettuce
Marrow
Onion
Parsnip
Pea
Pepper
Potato
Radish
Spinach
Swede
Tomato
6.0-7.0
6.0-7.5
6.0-7.0
6.0-7.5
6.0-7.5
5.5-7.0
4.5-6.0
6.0-7.0
6.0-7.5
5.5-7.0
6.5-7.5
Flowers/Shrubs
Azalea
Camellia
Carnation
Chysanthemum
Clematis
Daffodil
Dahlia
Erica
Fuchsia
4.5-6.0
4.5-5.5
6.0-7.5
6.0-7.0
5.5-7.0
6.0-6.5
6.0-7.5
4.5-6.0
5.5-6.5
Geranium
Gladiolus
Hydrangea(Blue)
Hydrangea(Pink)
Hydrangea(White)
Magnolia
Primula
Phododendron
Rose
6.0-7.5
6.0-7.0
4.0-5.0
6.0-7.0
6.5-7.0
5.0-6.0
6.0-7.5
4.5-6.0
6.0-7.0
Fruit
Blackberry
Cherry
Cuttant Black
Cuttant Red
Gosseberry
Grapevine
5.0-6.0
6.0-7.5
6.0-7.0
5.5-7.0
5.0-6.5
6.0-7.0
Lemon
Melon
Peach
Raspberry
Rhubard
Strawberry
6.0-7.0
5.5-6.5
6.0-7.5
5.0-6.5
5.5-7.0
5.0-7.5