SWR / Watt Meter
---
▶ Model:RS-101, 102, 402, 502
INTRODUCTION:
This SWR/Watt meter is a highly accurate RF meter for measuring Forward Power, Reversed Power, and VSWR.
MAIN FEATURES:
Large meter display for ease of reading.
Forward RF power readings. Switchable to indiecate either average power of peak Envelope
Power(REP) for SSB and AM transmitters.
Reflected RF Power readings.
VSWR ratios.
Illuminated meter.
Convenient control layout for easy operation.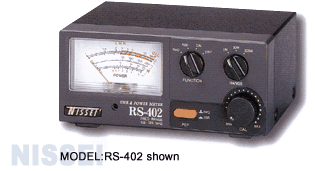 SPECIFICATIONS:
Operation Manual, 13.8 DC Wire